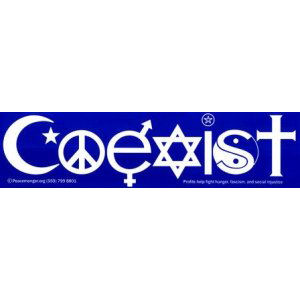 I am a huge bumper sticker fan! I love to see them around town. They make me laugh, cry, think, and just wonder during my drive behind the cars bedecked in them. I wonder most about the people that slapped them on the back of their cars. Bumper stickers tell you an awful lot about the people inside. From how the back of their car is decorate you can tell what some strangers political, religious, family, dietary, and philosophical ideals are.
This is why I have yet to put one one my plain white mini-van. I talk about getting them. I've browser the bumper sticker stand at the fair. My biggest reason for getting one would be for the ability to distinguish my own plain white minivan from all the others in the parking lot. You have no ideas how many white mini-van there are in Idaho!
It is so hard to pick a bumper sticker! Like potatoes chips-you can't have just one. There are SO many choices and so many things you can tell the world from the back of your car. What do I want to tell the world from the back of my car? Do I want to tell the world anything from the back of my car?
I hesitate because of how much info I'd be broadcasting to random strangers following me in traffic.
Do I really want the guy with naked lady mud flaps knowing all our names?
Is it fair for me to brag about how smart my kids are when the lady behind me is going to pick up her kid from a 3 month stint in Juvenile hall?
I love the LDS bumper stickers... the ones with the angel Moroni or a temple outline proudly telling us they are a Forever Family. My favorites are the CTR ones. There is nothing quite like being cut off in traffic or having your a parking spot stolen by a fellow Mormon with a CTR bumper sticker.
I once had a bumper sticker back when I only had two kiddos and was a new mom. I'd gotten it from my lactation consultant (breastfeeding cheerleader) and I proudly slapped it on the back of our car. Oh look here's one: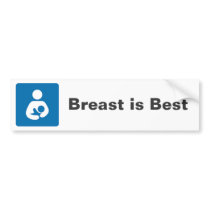 Anyhow...I had a few visitors say they were able to find my house easier because they saw my car with the breastfeeding bumper sticker. Apparently there are not many of these bumper stickers being displayed. I think Levi (my dear hubby) secretly hated driving the car with that bumper sticker on it because mysteriously it just "fell" off one day. And we all know how sticky bumper stickers are...hmmm.
Well back to my main topic-To bumper sticker or not to bumper sticker?
Although it has been extemely entertaining looking for possible canidates for that prime real-estate on my bumper...
...maybe I'll just get a fun antennae ball.