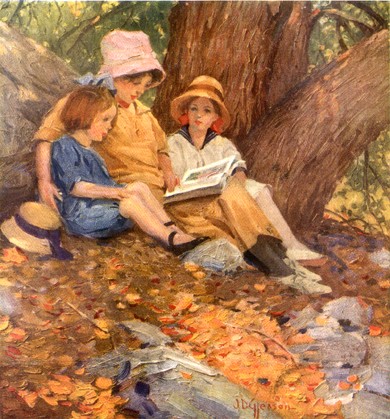 My greatest fascination with Charlotte Mason writings is her ability to ooze truths throughout her books. You always come away feeling either inspired by some new truth or having an old truth reaffirmed by her thoughts.
I have always felt that education naturally falls into the stewardship of parents. From their earliest infancy we are charged with teaching our children, how to eat, sleep, talk, interact and love. But for some reason society at large has continued to take that stewardship away from the parents earlier and earlier. Experts tell us what we DO NOT know about our children. They tell us what is really best for them, and how when and what they should be taught. How eager some of us are to get them to a school-able age and then to send them off to be taught by others thinking nothing of what is being taught or why- so long as we do not have charge of it.
When in reality the responsibility of overseeing that education is soley the responsibility of the parent. There are many ways to facilitate that education...but the ultimate responsibility lies with the parent.
It is great to see mothers taking back their stewardship by joining the ranks of homeschooling and many many more realizing that schools are not ultimately responsible to educate their children and taking the necessary steps at home to supplement and support their child's education in proactive ways.
"
It is a great thing to be a parent: there is no promotion, no dignity, to compare with it. … But then entrusted with such a charge, they are not free to say, "I may do as I will with mine own." The children are, in truth, to be regarded less as personal property than as public trusts, put into the hands of parents that they may make the very most of them for the good of society. And this responsibility is not equally divided between the parents: it is upon the mothers of the present that the future of the world depends, in even a greater degree than upon the fathers, because it is the mothers who have the sole direction of the children's early, most impressible years. That is why we hear so frequently of great men who have had good mothers - that is, mothers who brought up their children themselves, and did not make over the gravest duty to indifferent persons."The mother is qualified," says Pestalozzi, "and qualified by the Creator Himself, to become the principal agent in the development of her child; … and what is demanded of her is - a thinking love … God has given to thy child all the faculties of our nature, but the grand point remains undecided - how shall this heart, this head, these hands, be employed? A question the answer to which involves the futurity of happiness or misery to a life so dear to thee. Maternal love is the first agent in education."We are waking up to our duties, and in proportion as mothers become more highly educated and efficient, they will doubtless feel the more strongly that the education of their children … is an undertaking hardly to be entrusted to any hands but their own. And they will take it up as their profession - that is, with the diligence, regularity, and punctuality which men bestow upon their professional labors.That the mother may know what she is about, may come thoroughly furnished to her work, she should have something more than a hearsay acquaintance with the theory of education, and with those conditions of the child's nature upon which such theory rests.
"
Home Education by Charlotte Mason, pages 1 - 3