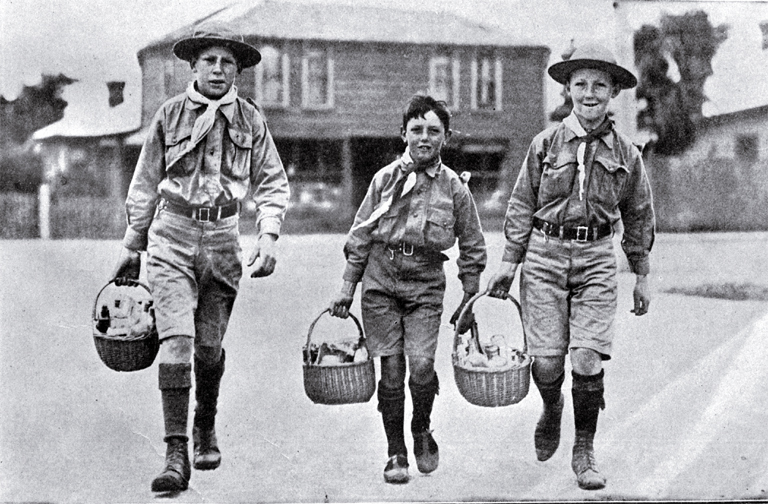 Photo from Christ Church City Libraries website. Cheerful boy scouts acting as messengers to distribute food and medicine to patients at their houses during the influenza epidemic [1918] Pictured are: on the left John Neville Westgarth (d. 1981) and in the centre William Patrick (Bill) Sweeney (1908-1983).

I would not say I am a scout fanatic, but I do think the Boy Scouts of America have come up with some extremely amazing programs for youth. I do not know of a boy who would not benefit from the things learned and character gained from scouting. We have been involved in Cub Scouts since Josef was 8 years old. I have been a Den Leader for the Wolves, Bears, and Webelos and also served as Advancement Chairman and Cub Master over the last 5 years. Now Ian is a Cub and Josef has moved up to Boy Scouting-which is a whole thing for us. When the programs are run appropriately by trained leaders they can be so helpful to the development of these young boys.
I was thrilled to learn that Baden-Powell and Charlotte were changing the world at the same time.
Some quotes by Baden Powell:
"An individual step in character training is to put responsibility on the individual.

"
"We never fail when we try to do our duty, we always fail when we neglect to do it.

"
"The most important object in Boy Scout training is to educate, not instruct."
"The boy is not governed by don't ,but is led by do."
"Scoutmasters need the capacity to enjoy the out-of-doors."
Did you catch the bits of truth shared between them? Many of their thoughts and philosophies were parallel and even Charlotte recognized Baden-Powell's potential to change the lives of children.
Quotes from When Children Love to Learn by Elaine Cooper page 30-

" It was typical of her open search for the best ideas to develop a full life that she pounced on Baden-Powell's Scout Handbook designed to train soldiers. I doubt that any other Victorian educators saw the potential in that book even for boys, let alone for the demure little girls with their governesses."
" Charlotte not only saw potential in it, but she immediately purchased quantities of the handbooks and included them in the PUS (Parens Union School) curriculum."
" Thus while other children were kept indoors to have endless facts crammed into them, these fortunate children had every afternoon outside. One afternoon a week was for "scouting": tracking, noticing wind directions, learning to set up camp, and enjoying a truly hands-on education that thrilled and energized them. These children took part in the beginnings of the great scouting movement!"